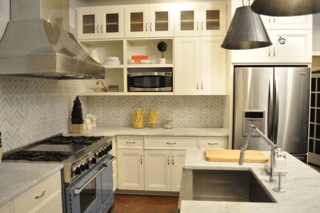 One of the hottest kitchen trends in the kitchen industry is open kitchen cabinets. They basically are a cabinet box without the doors or can also include open shelving. This trend gives the kitchen a casual and open look.
While it is popular it may or may not be for you. To help you decide we thought we would share the pros and cons so you can determine if this trend will work for your home.
Pros
Easy access to items and you can see what is inside
You can customize your storage space
Usually less expensive since you are not paying for cabinet doors
You can display decorative dishes and other kitchen items
Utilize items such as baskets to add character
Cons
Items in cabinets are prone to collecting dust
Kitchen can easily become cluttered and be more of a distraction
Dishes need to be the same and match
You may not want to see some kitchen items such as appliances and pans
Limited on available storage options
While there are many great reasons to jump on this trend we have found that in the long run homeowners are happier when they use a combination of open kitchen cabinets and other cabinets. Cabinet doors not only protect the items inside the cabinet but also add to the overall style and look of the kitchen. Some homeowners will use a glass door to keep the dust out, so they can still display those decorative dishes. The key is finding the right balance and still being able to take advantage of kitchen storage options.
For more pros and cons from HGTV on open kitchens click here.
At Brakur Custom Cabinetry our kitchen design experts can help you decide if the open kitchen cabinet look is right for your Chicagoland custom kitchen. Since we are a cabinet company you have the flexibility of deciding where to put these cabinets. If you are considering purchasing kitchen cabinets for your upcoming Chicago area home and would like to schedule a free consultation with one of our design experts, you can contact us here.
Click below to download your free "Kitchen Remodel Survival Kit."