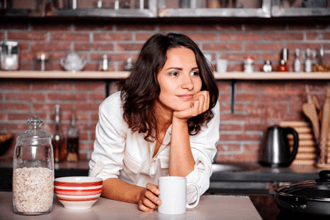 Are you an avid coffee drinker? Well, the money you spend at the coffee shop may pay for your own coffee station in your home over time. Consider making your own coffee shop and theme it however you want in your kitchen. Here are some good ideas to get you stated.
You need space, your preferred coffee maker, a grinder (if you use one), any other equipment and space for mugs and storage all near an electrical outlet.
That's the basics. Now let's get to the perks! Imagine waking up knowing your coffee is ready, and your mug is warm waiting for you. That's just the beginning.
Luxury in Your Kitchen – Built-In Coffee or Espresso Machine
Pick your space and install a built-in machine. They look very professional and stylish and everyone will love it. You can even accessorize the area with pullout trays around it for storage.
Accessorize with a Mug Drawer
Keep your mugs directly under your coffee maker with a mug drawer. Perfect to organize all your personal mugs for you and your family.
Warm it Up
You can even get a mug warming drawer appliance. What will they think of next!? Must be a great feeling in cold winters.
K-Cup and Other Organizers
Growing in popularity are places to store things like K-Cups for quick and easy access.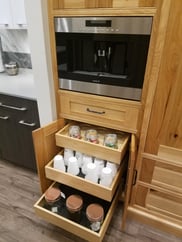 Give it Some Café Art
Give your coffee café a cool theme and feel by putting décor to match.
Concealed Fridge
A nice touch is to put a concealed fridge below your coffee station to store milk, creamer and other cold things.
For more great ideas to give your coffee station pizzazz read this article.
At Brakur Custom Cabinetry, we'll help you highlight all the things you love in your new space. To start the discussion contact an expert here.
In addition, you'll want to download our FREE Design Guide for other great ideas for your kitchen: