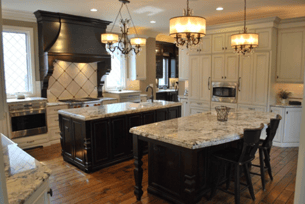 It happens all the time. People want to sell their house, so they prepare to sell by fixing it up, including a pre-sale kitchen remodel. Everyone knows a kitchen remodel is one of the best things they can do to increase their home's value and make their house more sellable. So it's an obvious one to do at sale-preparation time.
After the remodel, the homeowners usually ask themselves "why didn't we do this a long time ago and enjoy it for a while instead of just giving it to the new homeowner?". Good question!
If this scenario is a possibility for you, and you are thinking about selling in the approaching years, why not remodel your kitchen now and actually enjoy your new kitchen yourself?
Scott McGillivray, host of HGTV's Income Property, said "Statistically, the majority of people will renovate their homes in preparation for selling it, which is a great idea because if you do the right investments, you're going to make the most return on your investments."
He also said "the most important room in any house is the kitchen. It MUST be in good condition before you sell."
So, if you're going to remodel your Chicagoland kitchen, look at the places you're going to improve and pull them forward in time so you can enjoy them for a while yourself. You'll be glad you did!
At Brakur Custom Cabinetry we are experts at helping you choose exactly the right options for your remodel or your new home. We will translate what you want and need into reality so you can feel like you have your own oasis in your home. Contact one of our experts here.
Also download our Remodel Budget Busters to save you money!