There are 4 things that are the most requested when designing a new kitchen, and they are also the 4 most common things homeowners REGRET not doing if they didn't. If they exclude these 4 things, they end up looking for after-market solutions to fill the gap they feel in their kitchen since they didn't include these items initially. That's because once they start using their kitchen they realize how much they really needed them. We call them the "no brainers" because their value to your kitchen is so obvious.
The problem with many after-market solutions is that they are (and look like) a band aid to fix a problem. They don't look right and they don't fit right in most cases.
Don't regret passing over these items because you most likely will wish you included them, and if they are done as part of your initial kitchen they always look and fit better like they're supposed to.
Kitchen Options Everybody Does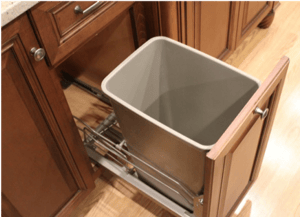 Item #1 – Pull-Out Trash Bins
When you finish your kitchen, you'll feel one of 2 things. Either Relief and pleasure that your trash bins are hidden and take up no kitchen space whatsoever. OR regret that you don't have a perfect place to put your trash bins. No one wants a visible trash can in their kitchen space, and they don't want to lose pantry space hosting a trash can either. Pull-out trash bins are the perfect solution for just about every kitchen, because they work very well, and no one sees them until it's time to use them.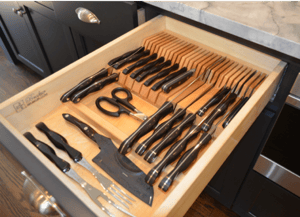 Item #2 – Cutlery and Utensil Dividers / Organizers
Include them in your kitchen and you end up with matching, fitting, organized utensils and cutlery. It looks like the cabinets were manufactured with them built in. If you don't, you end up buying aftermarket plastic or wood dividers that don't fit, and don't look right. You may not think of it as a big drawback, but when you open the drawers every day and see the mismatch, it's just another thing to make your kitchen look and feel cheap.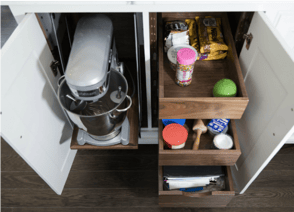 Item #3 – Roll-Out Trays
The key words here are "capacity" and "accessibility". A cabinet without roll-outs normally has a half deep shelf in the middle, and there's no way to effectively use the full capacity of the cabinet because you can't see or get to the stuff in the back of it. So it ends up as unused space or the space for dead things that you never look at.
Rollouts make it so you can use the entire space effectively. That's because the entire shelf pulls out so you can get to all of it, AND instead of a half shelf you have full depth rollout that holds much more. The back of the shelf is just as easy to access as the front because it pulls all the way out.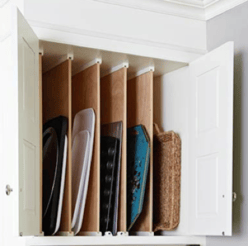 Item #4 – Tray Dividers
What happens if you don't have tray dividers? You probably stack trays and larger things on top of each other in a drawer of some sort (cabinet or the oven drawer). If you do, you're familiar with having to lift them all out to get to the one you want because it's at the bottom.
Enter tray dividers. Vertically stacked, they make it very easy to open a cabinet door and see all your trays immediately accessible, with the ability to see the exact one you want without sifting through any of them. It's not rocket science why so many people have them.
At Brakur Custom Cabinetry we ensure you're knowledgeable about all the things that will make you feel your kitchen is "perfect" for you. We'll make sure you have no regrets.
If you're ready to discuss your future kitchen contact us here.
Don't forget to also download our guide to other "Must Haves" for your kitchen.