Most of us are familiar with popular countertop materials such as laminate and granite, but have you ever considered using wood instead? When you think of a beautiful piece of furniture it is the wood and the finish that make it so attractive. With kitchens becoming an extension of our living areas and more open layouts, a wood countertop can add the perfect touch. It can be both beautiful and functional.
Most people think of a butcher-block wood that you cut on when it comes to wood countertops. There is so much more to wood countertops. Similar to cabinets,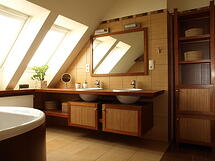 they come in a variety of woods and finishes. They show off the natural wood grain and have a warmer feel than quartz or granite.
Some woods are more durable than others. The hardness of the wood species varies. You will want to choose a harder wood that is more resistant to damage and denting. You can find this out by looking at the Janka Hardness Scale. The higher the number the harder and more durable the wood is. Along with hardness you will want to consider putting a protective sealant or finish. This will extend the life of your countertops.