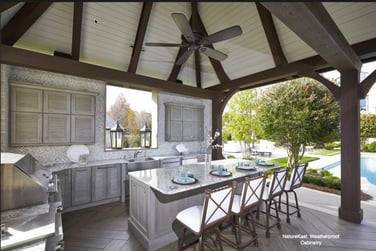 Summer is here and we are spending more time outdoors in the yard. It's time to fire up the grill and enjoy the fresh air and sunshine. If you have driven around you have probably noticed a new trend that is catching on, outdoor kitchens and living spaces.
Homeowners today have so many options and no longer have to be outside cooking at the grill while everyone socializes indoors. With new and innovative cabinets and designs, many outdoor living spaces are rivaling the indoors. No need to run back and forth to get what you need.
An outdoor kitchen can be stocked with everything you need including the sink, refrigerator and other appliances. It can also have natural seating areas so you can talk to your guests while you work.