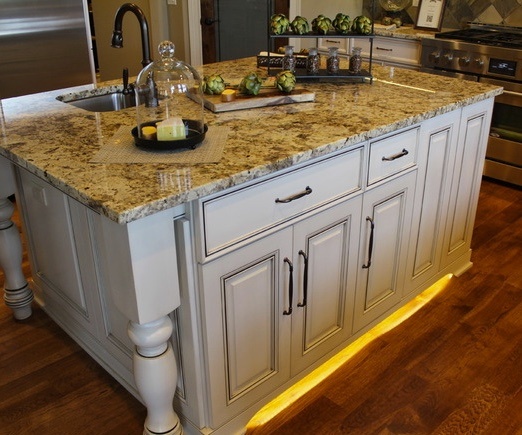 For years granite countertops have remained a popular choice for many homeowners in the Chicagoland Area. Nothing with the exception of quartz has even come close to being a rival for this popular material. Still some homeowners opt for other materials because of things they have been told or just assume. Understanding what granite is and is not will help you make the decision if it is the right countertop for your Chicagoland custom kitchen remodel.
5 Common Misperceptions
Granite is expensive – The price of granite has dropped significantly in recent years. It is actually cheaper than some synthetic engineered stone. While it may cost more than other countertop materials such as laminate, it is much more durable and you get what you pay for. It is generally priced and compares to other high-end countertop materials.
Granite stains - Granite tops will resist stains better than laminate or solid surface materials such as Corian. While it is not impossible to get a stain most stains can be removed.
Granite countertops require a lot of maintenance – All that is generally required is routine cleaning with a mild soap and water. There is a water test that can be performed to determine if your granite needs to be resealed. Rarely does granite need to be resealed on a yearly basis. Sealing granite usually takes less than 15 minutes.
Granite can crack due to heat – Granite is heat resistant. You can place a hot pan from the oven on the granite with no problem. The heat will not crack or chip the surface. It would take a torch to damage granite from heat.
Granite has harmful radon gases – Granite is a rock and there is no current scientific evidence that supports this claim. You can read more about this by clicking here.
Granite countertops have remained a popular choice because they not only are beautiful, but also extremely durable. Many kitchen designers will tell you that you get the most value for your money when choosing a granite countertop. If you have more questions about using granite in your Chicagoland custom kitchen remodel and would like to talk to one of our remodeling experts you can contact us here.
Click below to download some free remodeling tips if you plan on selling your home.