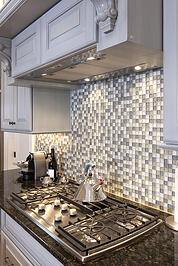 With so many tile backsplash choices, which one will make your kitchen stand out and look the best? Many consider the choice of backsplash to be one of the most important decisions in your kitchen remodel. You want to ensure you choose the right style of tile and layout to get the look you want in your kitchen.
When many people think of tile they initially think of the stone or porcelain tile. There are different types of types of tile materials. Tiles can be made from stone, mirrors, glass and many other materials. Along with different materials there are also different types of tiles such as laser-cut, patterned, and herringbone tile that can be used for your kitchen backsplash. These different types and materials can really add character to a kitchen and create stunning focal points.
Another thing to consider in choosing your tile is the layout. There are the standard subway tiles which are found in many contemporary and classic kitchens. Some people prefer a brick look while others want something just a little bit different and opt for smaller tile with a mosaic layout. Click here to learn how to choose the right tile layout.
If you are considering remodeling your kitchen for resale click below to download these tips.