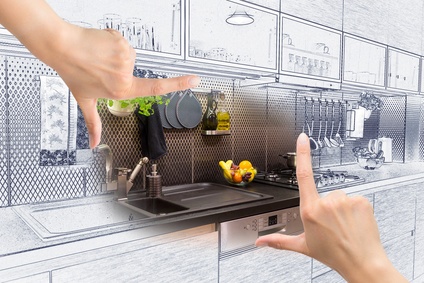 When most people come in to meet with their kitchen designer they have a pretty good idea of what they want. They usually know their kitchen style and what type of finish they would like. They also have some pretty good ideas of what they want their kitchen to look like. The challenge is making sure your kitchen designer understands exactly what you want.
While kitchen designers know all the specific terms for different finishes and styles sometimes we go off of what we have heard and end up using the wrong term for something. For example we may say we want a contemporary kitchen style but what we really want is a modern kitchen style with contemporary elements. To avoid some of this miscommunication and make sure you don't become easily frustrated there are a few things you can do to communicate your vision to your kitchen designer. Then you will be sure to get that kitchen you are dreaming of.
Collect images and pictures of different styles and finishes you like. It is much easier for your designer to understand and see then to assume they know what you are talking about.
Be sure and source your images so if your designer needs to go to the website or magazine for further clarification it is easy to find.
Don't try to make your kitchen something you are not. Too many times we get caught up in the trends and what seems to be popular. You will be much happier if you go with design elements and styles that fit your personality and not get caught up in designing a kitchen for others.
Make sure you list those items or kitchen design elements in order of importance. If it is that gourmet coffee station that is a part of your every day routine your designer will want to know that. It can affect everything from layout to different eat-in kitchen options.
To read the complete Houzz article on communicating with your designer click here.
At Brakur Custom Cabinetry or kitchen remodeling experts work hard to give you the kitchen of your dreams. We are not just here to fill your space with cabinets. We will ask questions and not just assume we know what you want. We will show you design options that you may not be aware of that are available. You also have the advantage of our computer kitchen design software that will let you see your kitchen before you decide. There will be no surprises and you can be confident that you will get the kitchen you are envisioning. If you would like to schedule an appointment with one of our kitchen design experts to discuss your upcoming custom kitchen remodel you can contact us here.
Click below to download your free kitchen remodel survival kit.