Are you thinking about getting a new kitchen? Studies show that homeowners start looking and educating themselves about kitchens up to 2 years before the begin their project. We call this pre-kitchen remodel phase the "Greenhouse Phase".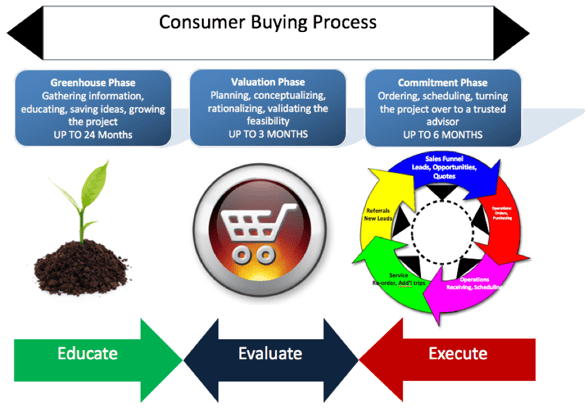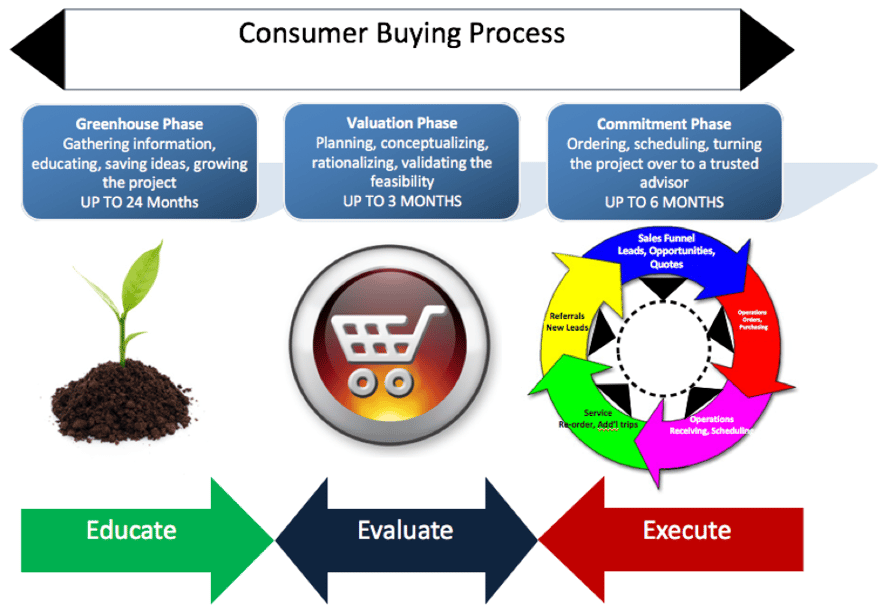 The Greenhouse Phase is when you're getting all your ducks in a row. It's when you're considering what you need, educating yourself, paying attention to what you like and don't like about your current kitchen, how much things cost, etc. It's a very important phase.
The reason it's helpful is that consumers that utilize this phase and educate themselves end up having more successful projects, and have less stress and worry during their kitchen project. That's because they understand more about what's going on, what will happen during their project, and they have less surprises. Surprises are the main source of stress in a project (these aren't good surprises!).
We're here to help you make the most of your Greenhouse Phase before you actually meet with a designer to begin your project. Many dealers just want to see you when you're ready to buy. We know that's not reasonable, nor is it helpful. We're here to help you all along the way.
The Brakur Custom Cabinetry Blog you're reading is an example. It's filled with tons of information that will help you prepare in every way for your project. You will enjoy it so much more and worry so much less by being so well prepared.
Here are some highlights to help you prepare yourself in the best way possible during your Greenhouse Phase. Start with these and peruse the other articles to educate yourself as well:
1 – There are tons of great ideas you'll want to put on your "shopping list' for your kitchen
Read: 17 Kitchen Design Tips You'll Want to Consider
2 – Download our guides that teach you all about the Kitchen Remodel Process. They're invaluable!
Read: The Kitchen Remodel Process
3 – Look for the things that would catch you off guard or cause unwanted surprises during your project, and educate yourself:
Read: 7 Remodel Questions You Didn't Know You'd Ask
4 – Learn about "trade-offs" you might have to consider to meet your budget:
Read: 5 Big Kitchen Remodel Trade-Offs
5 – Learn what to expect in a Kitchen Designer for best results:
Read: Your Kitchen Designer is Not a Used Car Salesperson
And Read: Make Sure you get a Home Visit from Your Designer
6 – Have a place to capture all your thoughts and ideas throughout the Greenhouse Phase as you learn:
Read: Make a Digital Scrapbook of Your Kitchen Remodel Ideas
7 – Don't forget to effectively capture the memories of the project "before" and "after". You'll kick yourself if you don't:
Read: Capture the Best "Before and After" of Your Kitchen Remodel
8 – Get familiar with the kitchen industry jargon and terms so you know what's being talked about:
Read: Helpful Kitchen Cabinetry Terms to Know (Free Guide)
9 – How to get started in a Remodel Project
Read: The Best Place to Start in Your Kitchen Remodel
10 – Educate yourself on all the latest trends and see what you like:
Read: Annual Kitchen Trends Study Results
Our blog also gives you a lot of free, information-packed guides to coach and educate you on everything related to kitchens.
Take advantage of these unmatched resources Brakur Custom Cabinetry offers you for your Greenhouse Phase and contact us if we can help in any other way.
Contact one of our experts here if we can guide you.
When you're ready, make sure to download our FREE Guide to getting a Remodeling Quote: