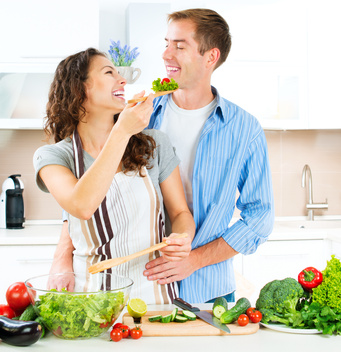 February is upon us, and that means that Valentine's Day is near. These are a few tips for how you can create the perfect couple's kitchen for your Valentine's holiday evening.
Let Technology be Your Wingman
Adding technology such as the Facebook Portal or the Amazon Echo Show will allow you to get creative and set the mood. You can play the perfect playlist of music to create the ultimate environment for the evening, take a Masterclass from Gordon Ramsay on cooking, or set up a meaningful slideshow to play on the screen. Whatever your plan is, technology like this can be a viable ally in trying to create the perfect night for you and your significant other. Set up smart technology like smart lighting and you can even dim the lights all with the command of your voice.
Positioning is Key
The way you position and arrange your kitchen can have a large effect on the overall aesthetic of your home. Like restaurants, you want to arrange your kitchen in a manner that is both spacious and aesthetically pleasing. If you plan to cook for a "night in" this Valentines, double ovens and double compartment sinks are the way to go. That way, neither of the two of you are getting in the way of each other. You want plenty of room in order to have that relaxed, serene atmosphere you are shooting for.
Think Outside of the Box
If you really want to impress your significant other, you need to come up with unique, individual ideas that are meaningful to the two of you. Don't be afraid to get creative. Conceal that special surprise somewhere in the kitchen. Try to cook a meal together. Hang small lights from the ceiling. Any of these additions, or additions you come up with yourself, are sure to make for a memorable night.
At Brakur Custom Cabinetry we'll help you create the perfect place in your home to entertain at times like this. If you're ready to discuss your project contact us here.
Are you looking for ideas of what to cook? Check out our 50 Favorite Recipes Guide below and you'll be sure to blow them away.