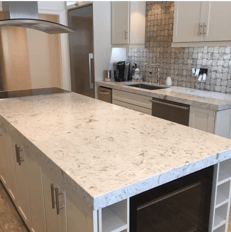 The countertop is a focal point of the kitchen. You can have the most beautifully designed Chicagoland kitchen, but the countertop can make or break the overall look all by itself.
When choosing a countertop, in addition to finding the right look, it's important to find one that is durable so it will last and require less maintenance. The following tips will help you determine the material and style of countertop that will work best for your custom kitchen remodel.
Tips for Choosing a Countertop
Choose a countertop with character, possibly having veins or patterns that blend well with your kitchen surroundings.
Look for neutral colors. Soft grey, white and beige tones are some of the most popular countertop colors for 2019. Paint and accessories change over time so you will want something that will allow you to change décor.
Find a countertop that is durable and won't easily scratch, stain or burn. Quartz is an obvious example because of its ability to resist damage and low-maintenance requirements. If style is your higher goal, look at accents or options like wood, concrete, glass or slate to shake things up.
Determine what your countertops will be used for mostly. If you just want a beautiful kitchen to entertain and don't cook a lot than you may decide marble is a better option.
Consider wood as an accent on an island to show contrast.
When choosing a stone make sure you understand the quality and grade of the countertop.
Our kitchen designers at Brakur Custom Cabinetry are the experts and are your best resource to find the right combination of countertops and cabinets for your upcoming kitchen remodel. If you're ready for a free consultation click here.
To learn more about design elements that are popular, download our FREE guide by clicking below: