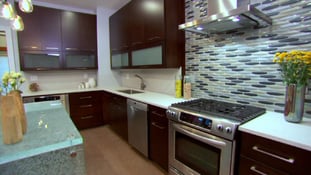 The kitchen cabinets you choose for your custom kitchen remodel are probably the biggest investment you will make. Cabinets are the focal point of your kitchen. They can take a lot of abuse so it is important that you choose a cabinet that not only looks good but is also built well.
Understanding the construction and knowing what to look for in cabinet materials will help you find the right kitchen cabinet for your Chicagoland home. We suggest you consider the following things when choosing your cabinets for your Chicagoland custom kitchen.
What to Consider When Choosing Kitchen Cabinets
Construction – Choosing a well-built quality cabinet will have the biggest impact on how your cabinets hold up over time. Look for cabinets that have dove-tailed drawers and soft close hinges.
Materials – Cabinets can be made from a variety of materials. Many are made from wood. The type wood you choose can affect the stain and finish color. They come in maple, oak, hickory, cherry, and other wood species. Some homeowners bypass the wood and may choose a different material such as thermofoil, stainless steel and melamine. The material you choose will impact the style and overall look of your kitchen. Do your research and find out how these different materials will be affected by light, water, and other elements they may be exposed to. A good kitchen designer can show you and explain the differences.
Door Style and Overlays - The door styles and type of overlays you choose are what help define your kitchen style. You can choose from raised panel, reversed raised panel, shaker, mullion, recessed panel and a slab. Do you want your door to cover the entire cabinet, a full overlay or do you want the door to show part of the frame of the cabinet a partial overlay? Some homeowners want the cabinet doors flush with the frame of the cabinet which is called inset.
Cabinet Finish – You can choose from a variety of paint and stain colors. Darker stains can make your kitchen feel more closed in so you will want to make sure you have adequate lighting. Lighter cabinet finishes can make a kitchen appear larger.
Storage – Think of the things you use most frequently. Organize your storage to coordinate with your work zones. You want the things you use most often accessible and easy to find. Talk with your kitchen design expert and explore your storage options. The right interior cabinet storage will eliminate the clutter and increase your countertop space.
Cabinet Hardware – Many designers will say your kitchen cabinet hardware is like the jewels of your cabinet. It does matter so it is worth spending a little extra to get the right kitchen cabinet hardware. The hardware will also help preserve your cabinets.
Trends – Pay attention to the current kitchen trends. Be careful to not just go with a fad and choose a cabinet color that will be outdated in a few years. Look at those trends with staying power and have a proven track record.
Ecofriendly – Look for a cabinet company that uses ecofriendly kitchen products. It will be better for the health of your family and the environment.
At Brakur Custom Cabinetry our kitchen remodeling experts can help you find the right cabinet for your Chicagoland home. They will use custom cabinets to give you a kitchen without those unnecessary fillers and maximize the space you have. If you would like to schedule a free consultation with one of our professional kitchen designers and begin planning your new custom kitchen you can contact us here.
Click below to download a free survival kit for your custom kitchen remodel.