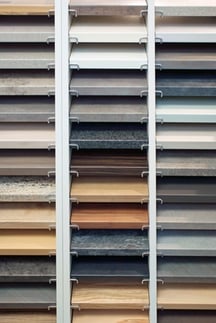 According to a recent consumer report some of the most beautiful bathroom countertops are the most practical. Many top performing materials like quartz are also less maintenance. This is great news for homeowners because you don't have to sacrifice quality for style.
When it comes to choosing a bathroom countertop you want to look for materials that are both stain and heat resistant. Even though your bathrooms may see less wear and tear than the kitchen they are still susceptible to damage. When looking at your countertop options you will want to consider who will be using the bathroom, the number of people who will be using the bathroom, the type of sink you will be using, and the bathroom cabinets. It's important to explore the pros and cons of the different materials available and learn which one will work best with your budget and overall need.
Bathroom Countertop Options
Marble – Is not only beautiful but is long lasting and resists chips and dents. Goes with almost any style bathroom. One drawback is it is more porous and susceptible to stains and scratches.

Concrete – It is ecofriendly and extremely durable. Comes in a variety of colors and textures. It is porous so it requires waxing and sealing regularly.

Granite – This tends to remain one of the most popular choices of bathroom countertop choices. Requires minimal upkeep and is scratch and heat resistant. It has shown to increase the value of your home, but is one of the more expensive options.

Quartz – This is fast becoming a favorite since it does not need to be sealed like granite. It is tougher than granite and naturally resists stains and bacteria. However, it can be even more expensive than the high-end granite. On the downside textured finishes can show fingerprints and smudges.

Solid Surface – Is made of acrylic resin and crushed stone. Many people are familiar with the Corian brand, but Gibraltar and Formica also make it. It is very durable and resistant to water, bacteria and stains. Minor scratches can be buffed out. It can be damaged by intense heat or dropping objects.

Laminate – This material has come a long ways over the years and it's overall look and quality has improved. It is composed of a thin plastic surface that is bonded to particleboard or a plywood base. They can resemble the look of stone. It does come in a variety of colors and patterns. It is susceptible to water damage around seams. It can dull over time. It is the most affordable of the different materials.

Tile – Typically made of ceramic. Comes in a variety of colors and patterns. Is resistant to stains, scratches, and moisture. However it does chip easily and grout can attract stains and mildew. Requires more upkeep and cleaning.
Our remodeling experts at Brakur Custom Cabinetry can help guide you in choosing the right bathroom countertop material for your custom Chicagoland home renovation. We understand that every household is different. We can help you design the perfect custom bathroom that will meet your needs and lifestyle. If you would like to be contacted by one of our remodeling experts click here.
Clicks below for a free download and learn how to save money on your remodeling project.