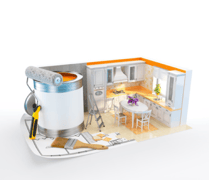 What things might affect your ability to sell your home? Even in markets where many homes are going under contract within a month or two, there are certain things that may make it harder to sell your home.
These are 3 features that, if your home has them, may increase the time it takes to sell your home. You might want to consider what to do about them before you put your house on the market.
1 – An Awkward Layout
One thing to consider when selling your home is "weird doesn't sell". If your home has something out of the ordinary in your kitchen, bathrooms or other rooms that might only appeal to a specific group of people, you'll likely go through more people before you find a buyer. Possibly with a lower offer as well when it finally comes. You'll want to normalize as much as possible before selling.
2 – Not Enough Bathrooms
If your home has less bathrooms than should be expected, or if they are poorly placed, you may have to go through more potential buyers to find one. Bathrooms should be adequate in number to the number of bedrooms and be in convenient locations. For example, if your house has no bathroom on the main level, but only on the upper level close to bedrooms, you will experience more hesitation from buyers.
3 - Distinct Décor
Not everyone has the same taste in décor, which is fine unless you're selling your home. Everyone has their own personal touches, but when selling, "neutral" is what appeals to the masses. Any updates you make should be done to bring the most value. Think conservative, not flashy.
To see more detrimental aspects of homes in terms of selling, see full article here.
Our designers at Brakur Custom Cabinetry know all the things you can do to increase the desirability and salability of your home. To discuss it Contact one of our experts here.
Let us help you not blow your budget as well. Download our FREE guide here to know how: