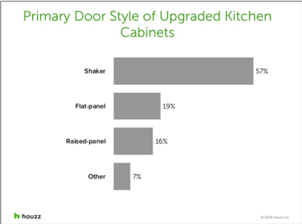 One of the most frequent questions we receive is "What is most popular in kitchens and cabinet style right now?" This is an important question and one that should be asked, but it should not be the determining factor when choosing cabinets, function and kitchen style for your new custom kitchen or kitchen remodel.
It's important that you remodel your kitchen for you, unless you are planning on turning around and selling your house soon. If you're not selling in the near future, what is popular today may not be popular in ten or fifteen years when you do sell anyway.
Besides, it isn't just about the look. Functionality is JUST as important, if not more. So, make it something you can truly enjoy while you're there.
The good news is the most popular cabinet styles & functions for 2019 are not likely to go out of style. They are clean and fresh and appeal to almost everyone. Below is a summary of 5 kitchen design trends in 2019 that you will want to be aware of when choosing cabinets for your new custom kitchen remodel.
5 Kitchen Trends for 2019
Transitional style kitchens, a blending of traditional and contemporary kitchen styles
White Shaker style cabinets
Mixing metal finishes with fixtures and hardware
Pantry cabinets and islands with built-in features
Cabinet storage features such as trash pullouts and cookie sheet dividers
Other things to consider is the space and what is not currently working for you in your current kitchen. Regardless of what you decide, chances are you will fall in love with your new custom kitchen. Your designer at Brakur Custom Cabinetry will understand your needs better than anyone and include the things that will make the most positive difference for you.
If you would like a free estimate on your upcoming kitchen remodel, contact one of our kitchen design experts at Brakur Custom Cabinetry here.
While you're considering your options, don't forget to download our FREE "Must Have's" Design Guide below: