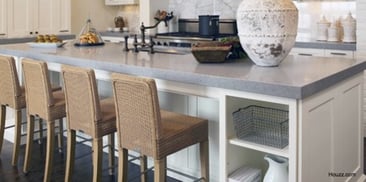 Choosing countertops is one of the most exciting parts of the kitchen remodel process. While there are countless options that may look modern and stylish, here are some hand-picked kitchen countertop materials that cannot miss.
Traditional but Modern
Traditionally popular countertops such as granite or marble are always a safe option in terms of quality and style. Granite has been vastly popular when it comes to countertops for an extended period of time because of its resistance to heat and its overall durability. Marble has been around for ages, yet you cannot quite beet that look of sleek design that accents your kitchen.
Modern Trends
In terms of modern countertops that are on the rise, no material has been more popular as of late than quartz. The abundantly supplied material is both durable and cost efficient. It is an equivalent alternative to marble and granite that both looks and feels great in your home. If you are looking for a durable and modern looking design, quartz is the best option for your kitchen and your wallet.
Go Unique
If you want a more unique option for your countertops that separates your kitchen from others, travertine may be the direction you want to go. The maintenance for travertine is easier than that of granite and it will give your kitchen a much more rustic feel. You get the benefits of a granite countertop but with an alternative look that is sure to leave others talking.
All Natural
If you want to go for an all-natural look in your kitchen that blurs the lines between the walls of nature and your home, limestone is your best option. Limestone is an earthy looking material that blends well with a natural kitchen aesthetic. It is complimented by natural light and greenery very well. Limestone countertops do require more maintenance than granite, quartz, or marble but the end product is certainly worth it.
These are a few of countless ideas that are meant to help you style your future kitchen remodel. For more tips, check out our kitchen must haves design guide below.