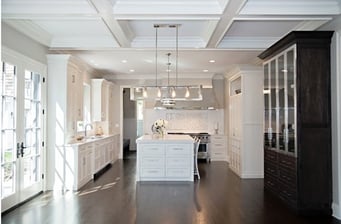 An aspect of the kitchen that can be often overlooked by the average homeowner is the design of the kitchen ceiling. Here at Brakur Custom Cabinetry, we want to make sure that you have the kitchen of your dreams. We have compiled a few unique kitchen ceiling designs that are sure to spark your mind into all of the potential possibilities when it comes to your home.
Creative Coffered Ceiling
Adding a coffered ceiling to your kitchen will help add layers and depth to your design. The design creates texture while becoming a spectacle in the kitchen as well. Coffered ceilings do have base level requirements, so be sure to consult your design expert to ensure that it is possible in your home. If you are looking for a unique, modern look coffered is certainly the way to go in your kitchen.
Spacious Tray Ceiling
A tray ceiling also adds layers to your ceiling. You do not get the texture that you do with a coffered ceiling, yet you get a much more spacious experience. A tray ceiling gives the appearance of a much larger kitchen and puts one under the illusion of being in a larger space. Depending on the combination with the cabinet selection, this can turn out to be a very unique concept that accents the kitchen very well.
Vaulted Ceilings Have Volume
A vaulted ceiling is an excellent choice for your kitchen remodel. Like the tray ceiling it creates a special illusion, yet a vaulted ceiling compounds the sense of openness tenfold. For homeowners with a smaller kitchen, this assists in relieving the cramped feeling you may get. In any kitchen a vaulted ceiling helps the room feel open and provide more potential storage space on top of the cabinets than a traditional ceiling.
These are simply a few of many options you have for your future kitchen. For more ideas, schedule a consultation with a design expert below to start your journey to find your dream kitchen.