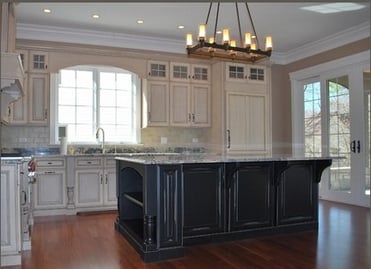 When it comes to remodeling lighting may at times be an afterthought for many. The exciting decisions to be made such as layout, cabinets, and countertops often overshadow the importance of lighting in the kitchen. Lighting, however, is an essential aspect of any kitchen remodel and should not be taken lightly during the decision-making process. Here are a few guidelines on how to make the right decision when selecting lighting for your kitchen.
Consider All Types of Lighting
When choosing the lighting in your kitchen remodel you need to consider every lighting type and the benefits of each type. There are four key types of lighting. The first is Ambient lighting, which is lighting that fills the room and is usually the main source of lighting in a room. These are going to be the brightest lights that help illuminate the entire room. The second type of lighting is task lighting, which puts emphasis on specific areas, such as countertops or the island where added lighting may be needed. The third type of lighting is accent lighting, which is lighting that helps emphasize different areas or even objects. An example of accent lighting can be picture lights and lamps. Finally, there is decorative lighting, which is lighting used for décor and to make the kitchen look better. Common forms of decorative lighting include chandeliers and candlesticks.
Think About Theme
What kind of overall theme does your kitchen embody? You will want the lighting and fixtures to match the ambience and theme of the rest of the kitchen. You do not want bear lampshades in a minimalist designed modern kitchen. The lighting needs to match the vision for the rest of the kitchen. If you have a modern kitchen with marble countertops it may be good to add lighting over the island as this lighting accents the glimmer and shine of those countertops. Try not to integrate useless lighting and make sure every light fixture or lamp has a purpose.
Full Coverage
Full coverage when it comes to lighting is essential. When you have full coverage, incorporating all the different types of lighting into your kitchen, you avoid dim or dark spaces. The kitchen should be vibrant and inviting so darker areas do not really fit in with that image. Just as well, not many people will want to sit in a room that is vibrantly lit in one area and poorly lit in another. Keeping everything proportional and spaced out will help tremendously with this. Incorporating things such as under cabinet lighting, in cabinet lighting as well as spotlights can go a long way in making your kitchen appear inviting and relaxing.
If you follow these helpful tips you should be on your way to having a well-lit and glowing kitchen. For more advice on your current or future remodel, schedule an appointment with an expert below.