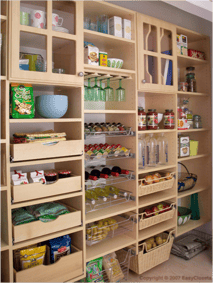 For many years, a closet or walk-in pantry has been pivotal in the modern kitchen. However, recent trends indicate that the closet pantry may be on its way out.
There are promising new trends such as open shelving, islands with storage space, and spacious cabinetry have allowed a full-size pantry to become obsolete. Due to these innovative new means of storage in the modern era kitchen, there is no longer need for such things. There is plentiful space in the kitchen without overcrowding it. While a closet pantry provides more than adequate space for food storage, it also allows increased clutter and overstocking to develop. When individuals knowingly have too much space, they often overstock, leading to forgotten food and expired ingredients.
With modern style shelving and cabinetry, you can keep the appropriate amount of ingredients and food that is needed without the wasteful excessive storage. It aids in keeping your pantry in good moderation while also looking stylish and sleek. Spice racks and open shelving are especially good for this sort of conservatism. Rather than dedicate an entire closet space to storage, you can go for minimalist yet adequate storage options.
It is not to be said that a walk-in pantry does not have its uses and they are still very common as well as practical. However, you can dedicate the space saved from a pantry to other areas of your kitchen such as a lounging area or simply leave your kitchen more spaced out. Taking out the pantry can also help if you have a smaller kitchen and are looking to shake things up and give your home a more modern look.
If you think you are ready to make the jump and begin remodeling your kitchen, Brakur Custom Cabinetry is ready to help you through every step of the process. Click the link below to schedule a consultation.