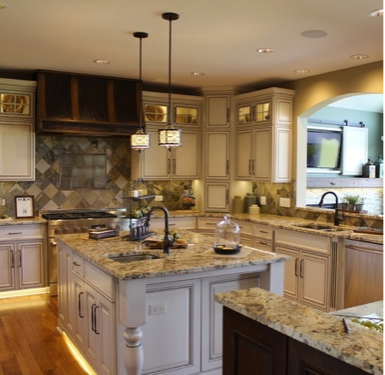 When you are remodeling your home, you are going into the process with the mindset that you will be living in that home for quite some time. Things do not always go according to plan, however, and the future is always uncertain. It is almost impossible to plan for the unexpected, but it is possible to be prepared for an unexpected situation. In the event that you end up selling your home or you simply are trying to flip a house, here are some kitchen design tips that keep resale in mind.
Make the Kitchen Stand Out
Adding individual features throughout the kitchen that may be considered mildly significant can go a long way when it comes time to sell. Design features such as hanging racks for storage, pull out cabinets, under cabinet lighting and drawer dividers are all things that can add that extra wow factor to your kitchen. After remodeling, the kitchen will look amazing, so you want to add a few extra features to make it really stand out.
Avoid Design Statements
You want to design your kitchen and remodel it the way it best pleases you. However, you do not want to make any statements too bold or outlandish to the point where it might discourage a potential buyer of the home. You can be creative and still go through the design process as usual, just try to avoid anything too unorthodox such as a fish tank island.
Let it Shine
It is common knowledge that when something has a glimmer and shine to it, it catches one's eye. The same can be said with your kitchen. Reflective surfaces, glimmering countertops and plenty of natural light go a long way in increasing the appeal of your home. Countertop choices such as quartz, marble or granite always give a nice shining glare that makes a kitchen look modern and enticing.
At the end of the day, whether you are going to live in your remodel or you will sell it, we want you to be 100 percent satisfied with your remodel. Here at Brakur Custom Cabinetry we are dedicated to making your vision a reality. For more kitchen design tips, please see our kitchen design guide below.