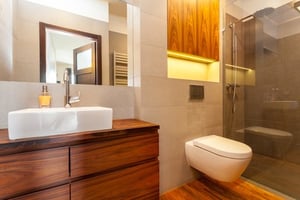 The fact that you have a smaller bathroom should not deter you from a remodel. Here are some ideas that can help you gain functionality and style in your half bathroom.
Lighter is Mightier
Avoid using darker colors in your bathroom. Darker colors bring the appearance of less space and make the room feel more crammed. Using lighter hues helps avoid contrasting colors that cast shadows, making the room feel even smaller.
Vault into Open Space
A vaulted ceiling can go a long way in terms of making a small space feel much more open. A half bathroom with a vaulted ceiling and a smaller light fixture brings the appearance and illusion of spaciousness.
Sliding is Styling
Sliding doors are always a functionally sound option, especially a half bath. The space you save from a door opening inwards can be detrimental and can help create additional storage space as well.
Save Space with the Vanity
Along the lines of storage space, one may think that a large vanity is needed when in fact overhead or cabinet storage is much more spatially efficient. Cabinets can at times be bulky but with the right combination you can save yourself much more walking space and make the appearance of a larger area.
Modernize your Shower
Finally, swapping out the traditional bathtub for a standing shower gives the appearance of class while also giving you some breathing room. The reflective glass can also contribute to the illusion of more space.
Here at Brakur Custom Cabinetry we want to make sure you get the best final product in your remodel. For additional ideas please see our DIY home remodel guide below.