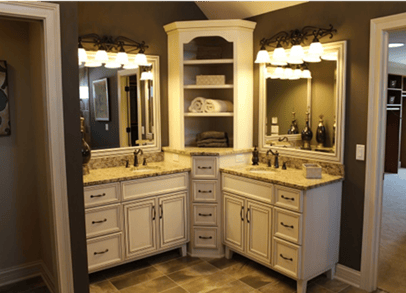 You are finally sitting down and ironing out the details of your bathroom remodel with your design expert. This can be an overwhelming time. To make things a little easier, here are some rules to go by from the beginning when working out the details of your future remodel.
Limit Your Choices
When you are remodeling you are presented with countless decisions that need to be made. On anything from the vanity to floor tile, you are the one giving input and deciding the outcome. Too many options can lead to a lack in coherency and continuity in your remodel. When beginning the process, you want to approach each section of the remodel with a few ideas already in hand. This will help narrow down the staggering list of options that you are presented with. If you know what type of vanity you want, this already eliminates hundreds of options that you are presented. Do your research and come prepared to ensure that your remodel is one of fluidity and consistence.
Keep Function in Mind
Many people go crazy with creative design ideas when they are finally able to put them to life in their remodel. You want to also keep function in mind. Your new remodel can look amazing but if the design is not functionally sound then what was the point in the first place. Give yourself adequate storage, make sure there is enough lighting and reconfigure the layout to compensate for any spacing issues. If you keep both form and function in mind throughout the remodel process, you can have the best to both worlds.
Set a Budget
If you have a set budget in mind, it is much easier to stick to that said budget. Remodel costs can pile up you do not have a base line cap on the amount of money you want to put in. Once you consult your design expert and come up with a number that you do not want to surpass, it becomes much easier to make design decisions with financial ramifications in mind. There can be unforeseen circumstances that arise, so it is always good to account for potential setbacks in your budget ahead of time.
Here at Brakur Custom Cabinetry we want to make sure that you have the smoothest process possible throughout your remodel. For any questions you may have, see our request an expert feature below.