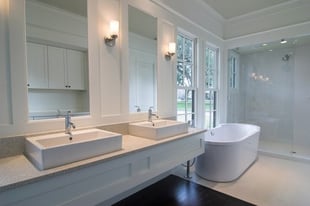 When remodeling your bathroom, it can at times be similar to a puzzle. You have to find all of the right pieces in order to make the room fit the way you want. Here at Brakur Custom Cabinetry we are dedicated to making that happen. That being said, here are a few tips for your shower design when putting together your bathroom remodel.
Raise the Roof
You want your dream bathroom remodel to have proper air circulation. If the shower goes directly to the ceiling, then you will have trapped moisture that can cause the buildup of mildew and damage the ceiling. If you raise the ceiling and give proper spacing between the top of the shower and the roof you can avoid issues like that. It also contributes to a more spacious feeling that you are sure to enjoy. Along with all of that, combined with an electrical fan a raise ceiling will be much more effective in getting rid of steam and trapped moisture.
Be Meticulous About Spacing
The last thing that you want is to finish your bathroom remodel to find that you do not have as much space as you would have liked. A common issue, especially in smaller bathrooms, is that homeowners make the shower or tub too large and decrease functionality of other areas like doors opening fully. If you are meticulous about saving space and giving yourself an open area to relax in, you will be able to avoid issues like these. Things like a rounded shower or not including a tub are just some ideas of how to save a little space in your bathroom remodel.
Give Yourself Adequate Storage
Can you imagine shampoo and conditioner bottles cluttered all over the place, falling down every so often and cluttering your shower space? This is a feeling all too familiar for many homeowners. There are many spatially efficient storage options to add to your shower during your remodel. Small niches in the wall help avoid protruding outer storage like shelves while looking modern. Hooks are useful and do not interrupt the flow of the bath. You could even do a combination of ideas, placing hooks and shelves inside niches that go into the walls. The possibilities are only limited to your imagination.
The Door to Paradise
The door to a walk-in shower, if that is what you choose, can significantly affect both the aesthetic and the spatial potential of the bathroom. You want to select a door that is going to save you space but that looks incredible as well. One idea is a sliding shower door that avoids taking any space at all when opened. The door needs to reflect the theme of the rest of the bathroom. Many homeowners go with a clear glass door. This is a great option because it is reflective, sleek, and modern. In addition to this modern look an option to build off of this is to remove the frame from the shower door as well. This creates a clean unobstructed sleek glass look to your shower. An option that is rather new is a bi-folding door. It is a frameless design that folds in as you open it, saving you space in the process while looking aesthetically pleasing. If you have a small bathroom and need to conserve space, this is a great option for you.
There are many decisions that go into a bathroom remodel. Here at Brakur Custom Cabinetry we are here to take that journey with you each step of the way. Your bathroom is a spatially sensitive area, so for help with finding adequate space in your remodel, check out our in-home measure guide below.