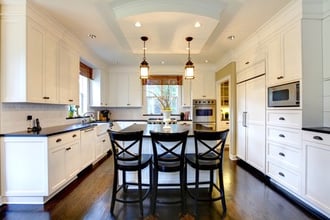 Many homeowners have tried and failed to incorporate flowers and plants into their kitchen décor. Sometimes the flowers die, sometimes the plants make a mess and often it ends up not working out. Just because it did not work out does not mean you should give up. It is entirely possible that the flowers or plants you tried to grow simply were not suited for that environment. We have compiled a list of the best suited plants to grow in your home so that you can feel good about your next in-home gardening experiment.
Aloe Vera
The aloe vera plant is a great option if you are considering adding a natural element to your home. It is commonly considered one of the hardest plants to kill so it is perfect for those of you that occasionally forget to water. The best place to put the aloe vera plant is on a windowsill where light can reach it. You will want easy access to it in case of burns from the stove or oven, as it is a natural skin healing agent.
Assorted Herbs
Various herbs can grow right within the comfort of your own kitchen. No need to dig up soil and plant a garden. You can grow herbs such as parsley, mint, or basil. These plants need consistent watering however some herbs require less sunlight than others. Parsley, mint, and chives are more forgiving when it comes to dim or little sunlight so they are probably better for those of you that can be forgetful gardeners.
English Ivy
English ivy is a plant that grows with a more vine looking stem. It hangs down from the pot as it grows but is very aesthetically pleasing. Many homeowners will place English ivy in a sunroom hanging from the ceiling to give the room a natural element. It is a very wild looking plant, yet it is easy to maintain.
Spider Plant
The spider plant is a commonly used household plant across America. It has long thin leaves and it is easily contained to the pot that it grows in. It is beneficial because it helps clean the air in your home and also gives it the natural element that you are seeking.
For more remodeling tips and for any advice on your kitchen or bathroom remodel, schedule an appointment with an expert below.