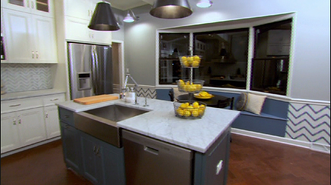 When talking about contemporary and modern kitchens those two terms are often used interchangeably. However, this is not entirely correct. When we are talking about kitchen styles that are contemporary we mean a style that is the current trend. They include kitchens that are at the forefront of technology and design. Some contemporary kitchens can be modern, but include other styles of kitchens as well.
So what does a contemporary kitchen style include or look like in 2015?
Clean and streamlined surfaces

High functionality with many unique storage options
Furniture style design features
Open shelving with fewer wall cabinets
Larger windows
Advanced technology such as Wi-Fi enabled appliances
Non-traditional seating areas
Cutting-edge appliances such as built in coffee makers and induction cooktops
Hidden outlets
Decorative lighting
Transparent features
Under counter options such as microwaves and refrigerator drawers
When it comes to designing a kitchen there were always be trends and fads. Some technology can quickly be outdated. Our kitchen design experts at Brakur Custom Cabinetry can help you design a kitchen that is not only contemporary but guide you towards those trends that won't quickly be obsolete and outdated. If you are planning on designing a kitchen in 2015 you will be excited to know that you have more options than ever before and can customize your kitchen so you can enjoy it for years to come. If you would like to talk to one of our design experts about the contemporary options available click here.
Click below to find out how not to go over budget on your Chicagoland kitchen remodel.