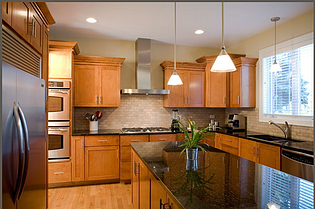 When it comes to designing a transitional kitchen you are blending the old with the new. It has elements of both a contemporary and traditional kitchen. Transitional kitchen styles are flexible and don't limit you. You could say that this style of kitchen ignores the rules. When it comes to matching different home styles it can fit in almost every home. Currently this type of kitchen style is ranked number 1 according to the National Kitchen and Bath Association, just squeaking by the traditional kitchen. This can be attributed to its universal style and appeal. It is both inviting and yet elegant.
There are some definite characteristics that classify a kitchen as transitional.
Cabinets are generally made of wood with basic door styles that are streamlined

Use natural surfaces such as quartz, granite, limestone, and other natural countertop and flooring materials
Utilize simple accents
Use both manufactured and natural materials

Kitchen colors tend be neutral such as gray, white, and natural wood
Use texture to add character such as in a backsplash
Some ornamentation such a corbels, moldings, and furniture legs
If you find yourself wanting an updated look but still enjoy the traditional look, a transitional kitchen is most likely the kitchen style for you. You can have that cozy feeling and yet clean and uncluttered look. Our kitchen design experts at Brakur Custom Cabinetry can help you figure out your kitchen style. If you would like to have a conversation with one of our design experts you can contact us here.
Click below to download your free guide to cabinetry.